---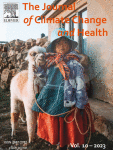 Cloos, P., Belloiseau, Maeva, Pherson, Nickez M., Harris-Glenville, Fiona, Joseph, D. Debra, & Zinszer, K. (2023, mai)
The Journal of Climate Change and Health
Vol. 11 | 7 p.
Abstract
Introduction
The Caribbean region is repeatedly exposed to extreme climate-related events, such as hurricanes and tropical storms, which are expected to increase in severity with climate change. This study aims to better understand how extreme climate events affect human mobility, social circumstances, and health-related issues in the Eastern Caribbean, focusing more specifically on Dominica, a Small Island Developing State (SIDS).
Methods
Semi-structured qualitative interviews were conducted with people who were internally displaced following an extreme climate event in Dominica, and with people who migrated from Dominica to Guadeloupe.
Results
Mental health was a central issue discussed by participants. Some respondents raised issues regarding loss of livelihoods and poverty that affected their living conditions. For those who decided to migrate to Guadeloupe, the difficulties of getting migrant authorized status were very stressful. Other themes related to displacement trajectory, income, occupation, housing, access to food and water, health and psychosocial services, and the role of local and international assistance and social support and ties – that are well known social determinants of mental health, were raised by participants.
Discussion and conclusion
Mental health and related determinants should be seen as a public health priority in Caribbean SIDS. Psycho-social interventions that focus on potential sources of vulnerabilities to mental health issues should be integrated in climate preparedness and response efforts. Otherwise, pre-existing social vulnerabilities may be aggravated, limiting the adaptation capacities of Caribbean SIDS to climate change. Public health and the health care system have a role to play in climate change adaptation.
VOIR LA PUBLICATION >