---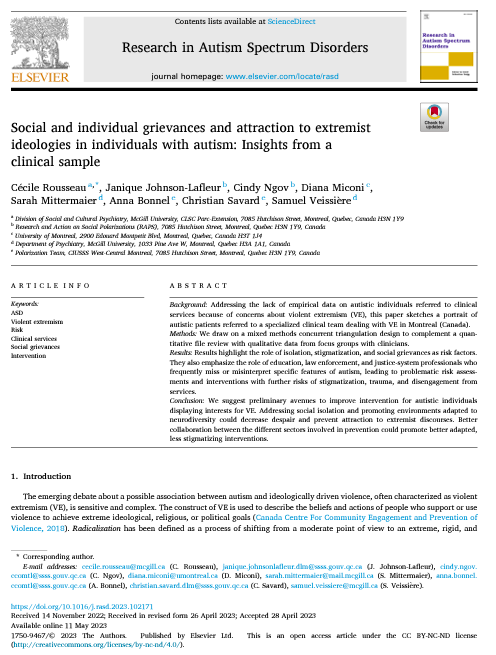 Rousseau, C., Johnson-Lafleur, J., Ngov, C., Miconi, D., Mittermaier, S., Bonnel, A., Savard, C., & Veissière, S. (2023, juin)
Research in Autism Spectrum Disorders
Vol.105/ Num.: 102171 | 12 p.
bstract
Background
Addressing the lack of empirical data on autistic individuals referred to clinical services because of concerns about violent extremism (VE), this paper sketches a portrait of autistic patients referred to a specialized clinical team dealing with VE in Montreal (Canada).
Methods
We draw on a mixed methods concurrent triangulation design to complement a quantitative file review with qualitative data from focus groups with clinicians.
Results
Results highlight the role of isolation, stigmatization, and social grievances as risk factors. They also emphasize the role of education, law enforcement, and justice-system professionals who frequently miss or misinterpret specific features of autism, leading to problematic risk assessments and interventions with further risks of stigmatization, trauma, and disengagement from services.
Conclusion
We suggest preliminary avenues to improve intervention for autistic individuals displaying interests for VE. Addressing social isolation and promoting environments adapted to neurodiversity could decrease despair and prevent attraction to extremist discourses. Better collaboration between the different sectors involved in prevention could promote better adapted, less stigmatizing interventions.
VOIR LA PUBLICATION >