---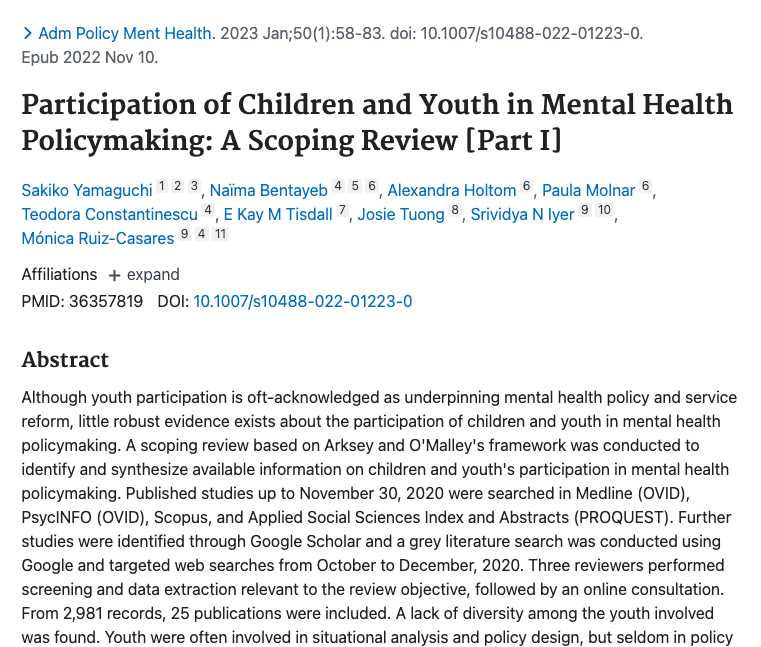 Yamaguchi, S., Bentayeb, N., Holtom, A., Molnar, P., Constantinescu, T., Tisdall, E. K. M., Tuong, J., Iyer, S. N., & Ruiz-Casares, M. (2022, novembre)
Administration and Policy in Mental Health and Mental Health Services Research
Vol. 50/ Issue 1 | 25 p.
Abstract
Although youth participation is oft-acknowledged as underpinning mental health policy and service reform, little robust evidence exists about the participation of children and youth in mental health policymaking. A scoping review based on Arksey and O'Malley's framework was conducted to identify and synthesize available information on children and youth's participation in mental health policymaking. Published studies up to November 30, 2020 were searched in Medline (OVID), PsycINFO (OVID), Scopus, and Applied Social Sciences Index and Abstracts (PROQUEST). Further studies were identified through Google Scholar and a grey literature search was conducted using Google and targeted web searches from October to December, 2020. Three reviewers performed screening and data extraction relevant to the review objective, followed by an online consultation. From 2,981 records, 25 publications were included. A lack of diversity among the youth involved was found. Youth were often involved in situational analysis and policy design, but seldom in policy implementation and evaluation. Both the facilitators of and barriers to participation were multifaceted and interconnected. Despite a range of expected outcomes of participation for youth, adults, organizations, and communities, perceived and actual effects were neither substantially explored nor reported. Our recommendations for mental health policymaking highlight the inclusion of children and youth from diverse groups, and the creation of relational spaces that ensure safety, inclusiveness, and diversity. Identified future research directions are: the outcomes of youth participation in mental health policymaking, the role of adults, and more generally, how the mental health of children and youth shapes and is shaped by the policymaking process.
Keywords: Children and youth; Diversity; Mental health; Participation; Policymaking; Review.
VOIR LA PUBLICATION >