---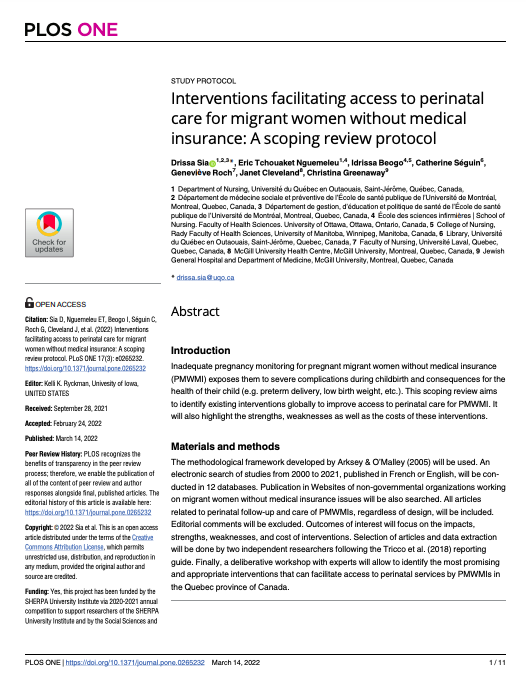 Drissa, S.; Nguemeleu E.; Beogo, I.; Séguin, C.; Roch, G.; Cleveland, J. and Christina Greenaway (2022, mars)
Online: PLOS One | 11 p.
Abstract
Introduction
Inadequate pregnancy monitoring for pregnant migrant women without medical insurance (PMWMI) exposes them to severe complications during childbirth and consequences for the health of their child (e.g. preterm delivery, low birth weight, etc.). This scoping review aims to identify existing interventions globally to improve access to perinatal care for PMWMI. It will also highlight the strengths, weaknesses as well as the costs of these interventions.
Materials and methods
The methodological framework developed by Arksey & O'Malley (2005) will be used. An electronic search of studies from 2000 to 2021, published in French or English, will be conducted in 12 databases. Publication in Websites of non-governmental organizations working on migrant women without medical insurance issues will be also searched. All articles related to perinatal follow-up and care of PMWMIs, regardless of design, will be included. Editorial comments will be excluded. Outcomes of interest will focus on the impacts, strengths, weaknesses, and cost of interventions. Selection of articles and data extraction will be done by two independent researchers following the Tricco et al. (2018) reporting guide. Finally, a deliberative workshop with experts will allow to identify the most promising and appropriate interventions that can facilitate access to perinatal services by PMWMIs in the Quebec province of Canada.
VOIR LA PUBLICATION >