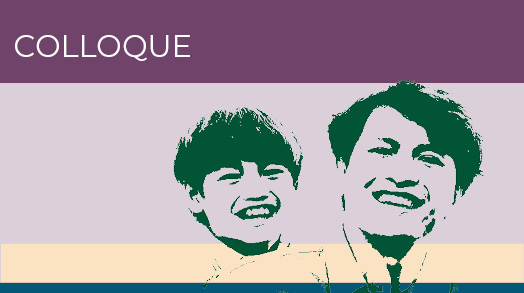 Call for proposals

Conference: Men's immigration experiences: better understanding for better engagement (Bilingual)
April 16-17, 2024
New Residence Hall, 3625 Park Avenue, Montréal
The SHERPA University Institute team, affiliated with the CIUSSS du Centre-Ouest-de-l'île-deMontréal, and its partners (ROHIM, RVP, CARI St-Laurent, Baobab familial, RePère) are
pleased to announce an upcoming symposium on the theme of men's immigration.
Plenary sessions will be held in French and English, with simultaneous translation.
Submit a proposal
English
French
Metropolis social determinants of health conference. Lessons learned and opportunities: moving forward in the post-pandemic era

October 2nd-3rd, 2023
Centre des Congrès, Gatineau
The IU SHERPA is a sponsor of this congress, and several of its members will participate.
Informations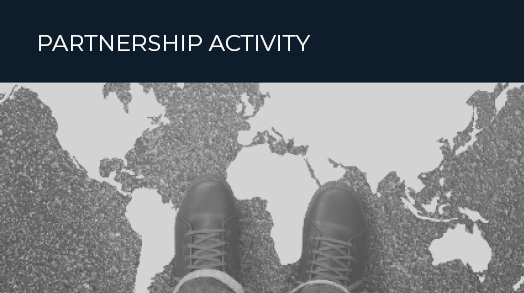 Study  Days
Revisiter l'intervention en contexte interculturel : état des lieux, promesses et défis dans un monde en tension (French)
2023, Mai 2nd-3rd
UQAM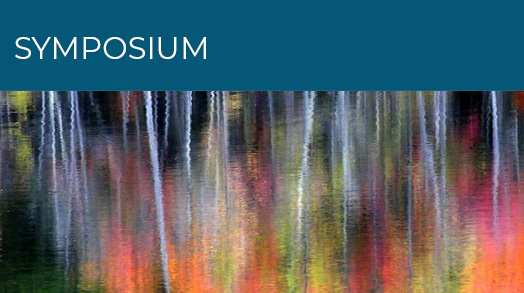 Symposium. Expériences de fin de vie dans un Montréal pluriel : mieux comprendre pour mieux accompagner (French)
June 7, 2023, 8:30 am to 12:00 pm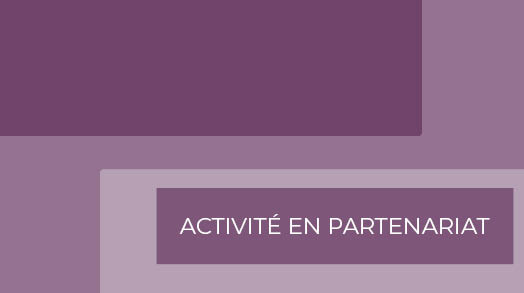 Ensemble, soutenons la mobilisation. Expériences, recherches et ressources
As part of the International Day of Zero Tolerance for Female Genital Mutilation
February 6, 2023
A copresentation from SHERPA University Institute,, Femmes du monde à Côte-des-Neiges, le Réseau d'action pour l'égalité des femmes immigrées et racisées du Québec (RAFIQ), de RHCforFGC - Gender.net Plus, SAS Femmes, End FGM, CReSP, The Joining Hands Project, ACCESSS, Women's Healt on Women's Hands et Afrique au Féminin.
Poster
S'inscrire en ligne
En personne
On peut aussi s'inscrire en personne en composant le 514-735-9027. Une halte-garderie sera offerte.
Conference in hybrid mode. Accompagner les femmes et les filles vivant avec une mutilation génitale feminine/excision (MGF/E)
Date: December 7th, 2022
With Marianne Nguena - Stratégies concertées : meilleures pratiques en Belgique; and Fatoumata Sylla - Perspectives du personnel soignant en France
Moderation: Bilkis Vissandjeé, professor, Faculté des sciences infirmières, Université de Montréal and member of SHERPA University Institute
Details (french)
Midi-causerie. L'intervention avec interprètes durant la COVID-19 au Québec : résultats d'une étude quantitative
Date : November 24th, 2022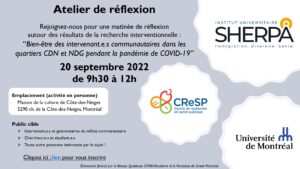 Reflection workshop on the results of an intervention research project on the well-being of CDN-NDG community workers
September 20th, 2022
A co-presentation of CReSP, the SHERPA University Institute and the Université de Montréal
Program (french)
Infographic (french)
Slideshows presented:
Introduction
Round table
Perspectives
Some moments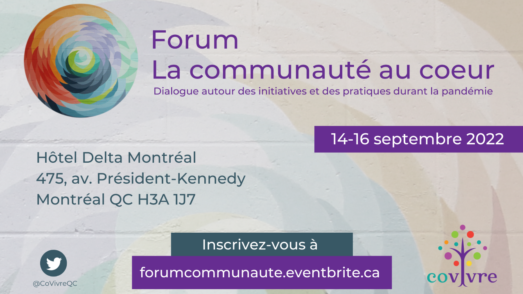 Forum La communauté au coeur. Dialogue autour des initiatives et des pratiques durant la pandémie
Date:  September 14th, 15th, 16th, 2022
Program (french)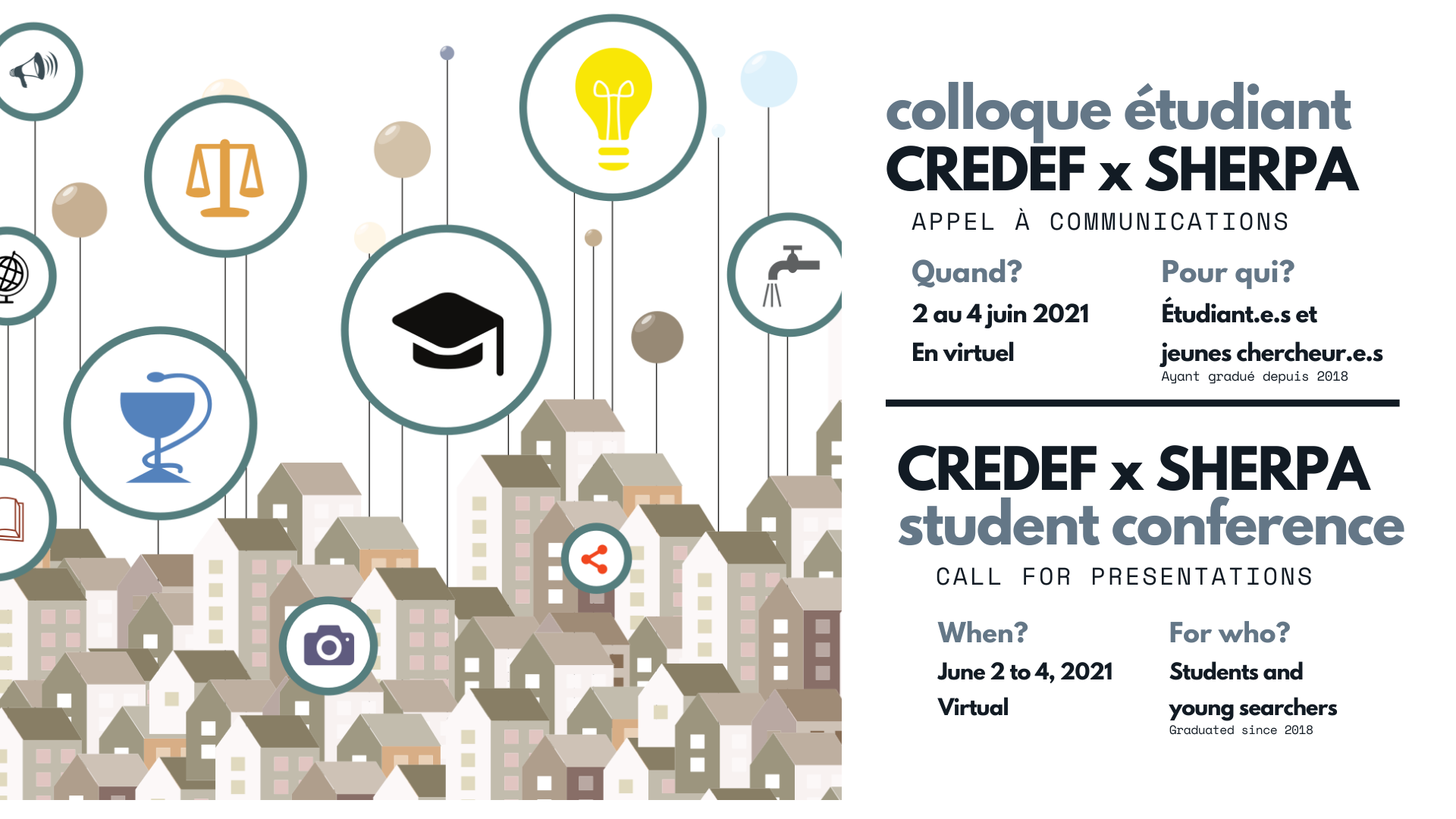 SHERPA/CREDEF STUDENT CONFERENCE
Bilingual virtual conference
June 2-3-4, 2021
*Call for propositions before April 19.
The SHERPA University Institute and the Research Chair on Issues of Diversity in Education and Training (CREDEF) are pleased to invite you to the first online edition of the student (and young researchers) conference which will take place on June 2nd, 3rd and 4th, 2021!
This conference is an opportunity for students, regardless of their university affiliation, and young researchers (graduates since 2018) to share their current or completed research project in an individual oral presentation.
To participate, presentation proposals must fall within one or more of the five areas of the two research centres. The 20 minutes presentation may be in English or French and concern a specific part of the research (context, framework, methods, results, etc.) of the entire project.
For more information: colloque.etudiant2021@gmail.com
ACCESS TO HEALTH CARE FOR MIGRANTS WITHOUT PROVINCIAL HEALTH INSURANCE. PRACTICES, POLICIES AND COURSES OF ACTION
Date: April 27-28, 2021
Virtual conference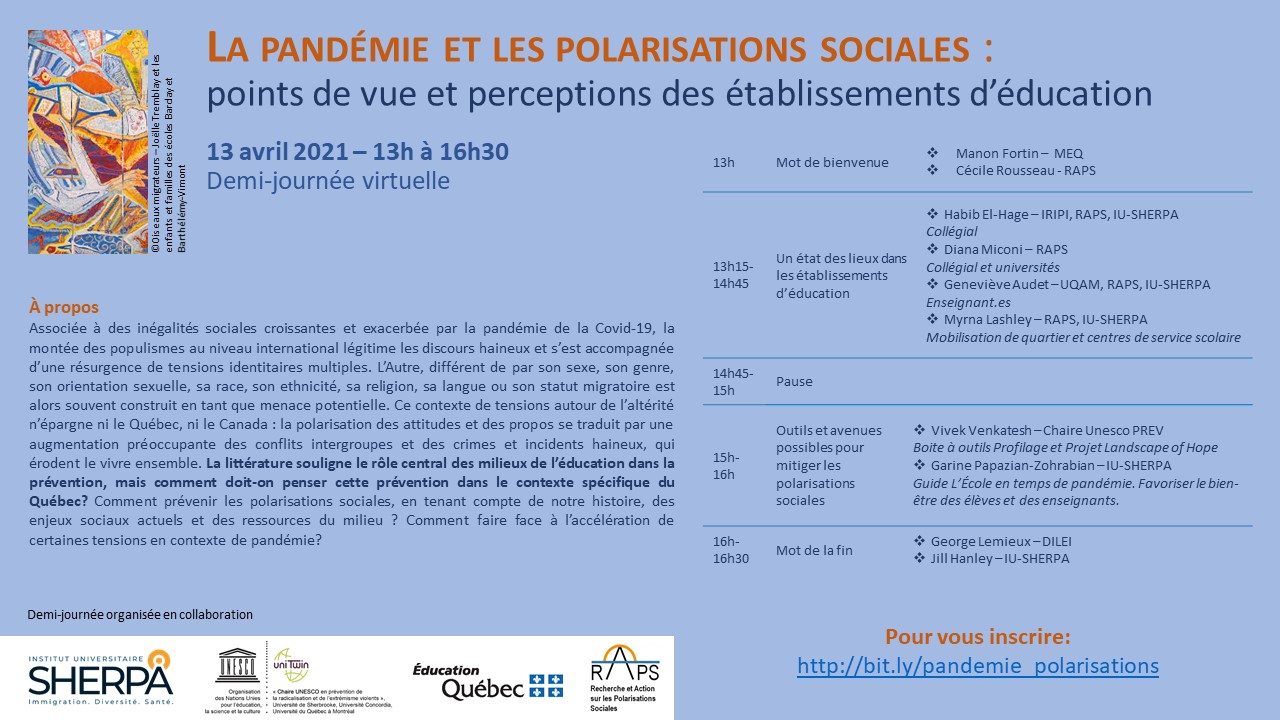 VIRTUAL HALF-DAY : LA PANDÉMIE ET LES POLARISATIONS SOCIALES. POINTS DE VUE ET PERCEPTIONS DES ÉTABLISSEMENTS D'ÉDUCATION
Collaboration of  Recherche Action sur les Polarisations Sociales team, SHERPA University Institute,  UNESCO-PREV Chair, Ministère de l'Éducation and Ministère de l'Enseignement supérieur.
Date: April 13th, 2021