---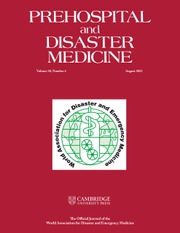 Pouliot, E., Maltais, D., Gervais, C., Tardif-Grenier, K., Simard, A. S., Gauthier, P., ... & Hamel, A. (2023, juillet)
Prehospital and Disaster Medicine
Vol. 38/ Sup. S1
Introduction:
Over the past years, the Outaouais region (Quebec, Canada) and their residents have had to endure no less than five natural disasters (floods, tornadoes). These disasters are likely to have a variety of consequences on the physical and mental health of adolescents, as well as on their personal, family, school and social lives. The experiences of teenagers are also likely to vary depending on whether they live in rural or urban areas.
Method:
Data were collected via a self-administered questionnaire in February 2022. A total of 1307 teenagers from two high schools participated in the study by completing an online survey. The questionnaire measured various aspects of the youth's mental health using validated tests, such as manifestations of post-traumatic stress, anxiety and depression, as well as the presence of suicidal thoughts and self-harm. Other aspects of the youth's experience were measured, including their level of social support, school engagement, alcohol and drug use, and coping strategies.
Results:
One third of young students (n=1307) were experiencing depressive symptoms and suicidal thoughts, as well as significant daily stress. More than 25% of the students had moderate or severe anxiety and thoughts of self-harm. These problems were significantly more prevalent among youths with prior exposure to a natural disaster. The study data also revealed that youths living in rural areas had a more worrying profile than those living in urban areas.
Conclusion:
Similar to other studies (Ran et al., 2015; Stratta et al., 2014), our research data revealed that youths living in rural areas presented a more concerning profile than those residing in urban areas. It therefore seems important, in future studies and services, to focus more specifically on these teenagers to better understand their needs and to develop adapted services more likely to meet them.
VOIR LA PUBLICATION >